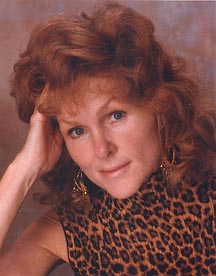 Working my way through college provided great life experiences for a novelist, but I didn't know I was destined to be one. None of my jobs satisfied me, even when I was well-paid. Then I had a chance to teach history in a large northeastern university. Loved it--until the state dropped the history requirement--and my instructorship. It was all downhill from there until I ended up teaching remedial English. I could only explain what a verb was to a college freshman for so long. That's when I figured out what I wanted to do when I grew up.

I've always been an avid reader, everything from Robert Heinlein's sci-fi adventures to Frank Yerby's historical romantic sagas. I was born with stories in my head, but never had the epiphany to write them. Okay, maybe I just didn't have the courage. But facing one more bundle of freshman themes drove me to realize maybe writing a book might be easier. Sure was more fun! After selling my first novel to Warner Books I never looked back. I've appeared on the USA TODAY bestseller list, been a RITA Finalist and won seven awards from Romantic Times.

My husband, a former sailor, cab driver, bartender, judo instructor and English professor, is a scholarly authority on obscene slang and a master at its use, but an understanding man who puts up with my all-night writing sprees and sudden dashes to my desk to jot down bits of dialogue while dinner burns. Since taking early retirement from academe, he helps brainstorm plots and do research. After four years in the U.S. Air Force, our son works in telecommunications and lives in an adjacent county. Jim and I now share our cedar house in the woods with a pair of utterly adorable tomcats. Just as life without writing would be unimaginable, so would life without cats. See the "special cats" photo album on my Face Book page.

When I'm not at the computer or off researching a new book, I cook large dinners for our extended family, putter in my garden and greenhouse, and read voraciously. I'm a member of the Author's Guild, Romance Writers of America, Missouri Romance Writers, Sisters in Crime, Novelists Inc. and International Thriller Writers.

I wrote my first twenty-two novels in longhand with a ball-point pen--it's hard to get good quills these days. Dragged into the 21st century, I now use one of those "devil" machines. Another troglodyte bites the dust.